Keyless Entry Locks
Sevan Locksmith is available 7 days a week. You can call us anytime you need a keyless entry locks installation done right the first time. Our professional staff is expertly trained in all fields of keyless entry systems. Call Sevan locksmith today at (206) 274-7061 to learn more about the keyless entry.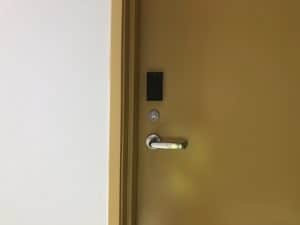 Gain more security for your home or business
Home and business security is getting more and more technologically advanced, and keyless entry lock systems are a big sign of that. With keyless entry locks, you gain more security for your home or business because these systems can not be picked, bumped, or drilled like traditional doorknob and deadbolt systems. There are hundreds of different styles of keyless entry lock systems, ranging from a standard key pad to a higher security Bluetooth-enabled lock.
The benefits of having a keyless entry locks installed
The benefits of having keyless entry locks installed can not be understated; never again will you lose a key, have a key break in the lock, or be locked out (unless of course, you forget the code). It also gives you control over who has access to your home. For example, if you want to let a maintenance person into your home you can give them a temporary code that will only work for an extended period of time, or give your dog walker a code they can only use between certain hours. This gives your home and business a more targeted security system than a standard deadbolt, and you can delete the codes anytime you see fit.
Large selection of keyless entry lock systems
Keyless entry locks are the perfect system for anyone looking to upgrade their home or business security. There are many styles, brands, and colors to choose from. Our highly trained locksmiths can help you find the best lock for your home or office. We have a large selection of keyless entry lock systems for you to choose from including Schlage, Kwikset, and Baldwin. While Schlage and Kwikset are the most commonly installed brand of locks on residential settings. Baldwin offers a stunning variety of keyless entry locks that offer beauty and reliability without compromising security. In fact, Baldwin's locks offer the only premium one-touch motorized deadbolt, making it even easier to guarantee the safety of your home. However, they are more pricey than Schlage and Kwikset and generally have to be custom ordered.
Warranty of up to two years
Looking for even more security? There are many companies that offer fingerprint keyless entry locks that have fingerprint, pin, and key accessibility. These types of locks are great for office buildings that want to limit the access of their employees, customers, or clients. Keyless entry locks run on batteries and generally have a warranty of up to two years, making them ideal for almost any situation. There are even some that are able to read the touch screen even if you're wearing gloves, making it perfect for the rainy Pacific Northwest.
Team of highly trained locksmiths
Our team of highly trained locksmiths has all the tools, knowledge, and expertise to install any type of keyless entry system on your home and business, any time of the day. With our exceptional warranties, blazing-fast response times, and the lowest prices in town, we guarantee we can get your home or business's security up to date in no time.
We'll do it for less than the competition
Almost all of these types of locks come in either silver, gold, bronze, or burnished colors to fit the rest of the locks on your home. They offer a style and elegance regular deadbolts can not match, and the added security will make your family and employees feel safer than they did. Did you find a lock you want but can't install it? We can custom order and install any type of keyless entry lock and we'll do it for less than the competition.
Always ready and able to answer any question
Call us today to schedule an appointment, request emergency service, or learn more about the different types of keyless entry locks that will suit your need. Our friendly and professional staff is always ready and able to answer any question you may have. We are located all over the metro area and can be at your location within 20 minutes or less.