The security of your business is your top priority, and it is our number one job. Our Seattle business locks change services are available 7 days a week. If you need a business locks change service in Seattle metro area contact us at (206) 274-7061 .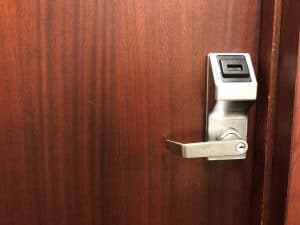 Hiring the right company for business locks change in Seattle
When you need to hire a locksmith company for your Seattle business locks change service, you need to make sure you are hiring a local, reputable company that can provide you with the lowest prices with the best service possible. Not only should they be reputable, but they also need to be licensed, bonded, and insured to keep the integrity of your business locks change service intact. Our mobile team of local locksmiths are fully capable of handling any locksmith service you need, including high security, access controlled, and exit device (panic bar) repair. Our local, licensed team of highly trained locksmiths are constantly being updated on the most up to date products, techniques, and procedures to guarantee that your locks change services are in the most capable hands possible. We understand the need to keep your business as secure as it can be, which is why we only use top-of-the-line brands to guarantee our work.
Security of your business is our job
Our Seattle business locks change team is always available to help you with any lock issue you may be having because we understand that problems can arise anytime. We pride ourselves on the ability to provide concise, low-cost Seattle business locks change services for all of our customers. Every service we perform comes with the best-extended warranty in town. Our team of highly trained, local locksmiths are reliable, friendly, and above all, professional. Why leave the security of your business in the hands of someone who may not be licensed when you can have the best locksmith available at the click of a button? Your security is our business, and we make sure all of our customers are 100% satisfied before we complete any job. We want to ensure that everything is up to your complete standards. Call us today to schedule an appointment, request emergency service, or to learn more about the different types of business locks change services we offer (206) 274-7061.
Types of Business Locks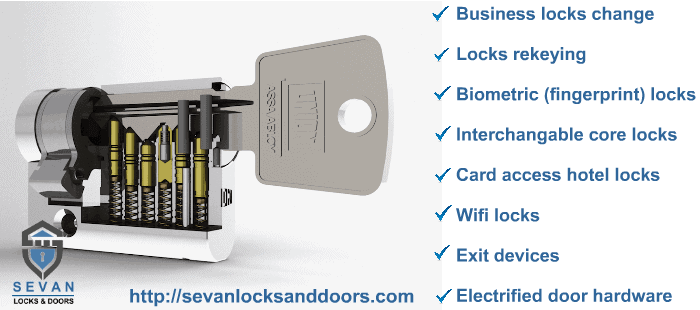 While most commercial buildings use a higher security type of lock than residential buildings, there are times where a basic deadbolt or doorknob will be installed. These types of locks generally have a level 1 security rating which can be easily picked or unlocked if there is no added security. These types of locks are okay for businesses that do not keep cash or valuables in the building. Our professional Seattle business locks change team can install, repair, and replace any type of basic deadbolt or doorknob on the spot.
Mortise locks are a more advanced type of deadbolt. While some are directly installed into the door, these only provide a modicum of security that can still be broken into. There are more secure types of mortise locks, however. They do not come in the standard deadbolt casing but come in a more complex locking mechanism that is designed to keep unwanted intruders from entering the premises. These locks are housed inside of a metal case that works in conjunction with the door lever to unlock the door. Whichever type of mortise lock you have, our Seattle business locks change team can repair and replace it for you the same day you call.
Choose the right security system for your business
High-security locks are more complicated than basic or mortise locks and come in a variety of styles, colors, and security levels. Panic bars, for example, use a locking mechanism that is designed to open quickly with a push of the button or lever but keep people from being able to open it from the outside. High-security levers and deadbolts are generally designed with 6 or 7 pins instead of the typical 5, which makes it virtually impossible to pick open. These types of locks are great for any commercial building that has expensive machinery, products, or large amounts of money.
Access control systems are also a great addition to any building that houses these things as they require a code, fingerprint, or key fob in order to open the door. These types of locks can be used on any door, including interior doors where only employees or managers are allowed to be. We have a wide variety of access control systems available for all of your needs. Would you like to learn more about our Seattle business locks change services? You are very welcome to contact us anytime.