Seattle Safe Lockout
Being locked out of a safe can be a frustrating and complicated experience, especially with the security that most safes offer these days. From turn dial to key-less entry, there are hundreds of different types of safes that all require some sort of key or code which can be easily lost or forgotten. Our Seattle safe lockout locksmith team can open yours in no time, and we do it for less than the competition. Call us now at (206) 274-7061 to schedule your safe lockout service in Seattle, Wa.
A few key steps you should try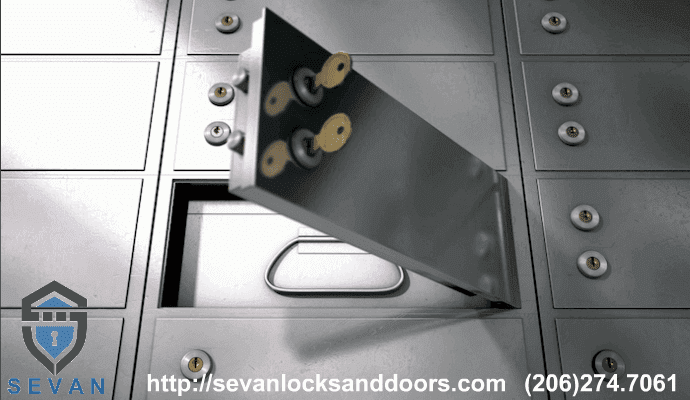 Our highly trained safe lockout locksmiths are familiar with every type of safe possible, however, before you hire any locksmith company, you should try a few key steps to ensure you can't unlock it yourself. A few obvious tips are checking the batteries, making sure you're entering the code correctly, and ensuring any pound or star sign needed is added. Another good tip is to read your manual and see if there is a reset code (for electronic locks) or a way to order a new key. If none of the above works, call our Seattle safe lockout service!
Unlock without any damage
Sevan locksmith can handle any type of safe lockout for almost any manufacturer. We will always try to unlock your safe without creating any damage, however, in some extreme cases the need to drill or cut open the safe in order for you to retrieve your contents. While this method of fixing your safe lockout issue is rare, it does happen on occasion. This usually applies to rotary and key safes as most digital safes have a reset code that can be used in order to open the lock in case you forgot the original code. We can also open heavy-duty commercial safes, medical and gun safes, or any other type you may have. Call us today to get more information about our Seattle safe lockout services.
We are completely mobile
Our licensed, bonded and insured locksmiths are completely mobile and we have all of the tools and technology needed in order to unlock any type of safe. We understand the need to have a locksmith company you can trust, which is why we only use our in-house, local locksmiths in order to guarantee the security and structure of your home or business.Our Seattle safe lockout team is available 7 days a week. We only use top-of-the-line tools, and any service we provide comes with an outstanding warranty to ensure your home or business is in the best hands possible. We strive to always provide the best service possible because we understand how annoying being locked out of your safe can be. We provide emergency, residential and commercial safe lockouts anytime of the day or night, and we never charge extra for nights, weekends or holidays.
Locally owned and operated
Sevan locksmith company is locally owned and operated, and we have been in business for over 10 years, making us experts in the field of safe lockouts. From lightweight medicine safes to heavy-duty gun safes, our experts can unlock any type you may have. For the best locksmith company in Seattle, give us a call today! We can schedule an appointment or send a professional, licensed locksmith to your home or business within 20 minutes or less. With best tools and technologies at our disposal, we can be in and out of your office or home in no time. We always offer the lowest prices to guarantee your satisfaction. Call our Seattle safe lockout service today to get a free estimate.
We promise that we'll do our best to make sure that all our customers receive a top quality professional service and the best price they can find!
We guarantee
We have locksmiths located all over the Seattle metro area in order to get to you quickly and get you back on with your day in no time. We guarantee our work to be 100% accurate and done by our trained in-house locksmith team. Call us now for the best Seattle safe lockout service and you can rest assured that your home and business are in good hands. Our friendly dispatch team is always standing by to take your call to make sure we can get your safe lockout issue resolved quickly.