Looking where to get a honda key cut or a honda key replacement? If you need a Honda key replacement service don't look any further. Sevan Locksmith makes Honda replacement keys on the spot. All of our services come with a written warranty. Call us now at (206) 274-7061 and don't forget to check out our great online specials.

Basic or Chipped Honda Key, We Do It All
There are three types of Honda keys: basic, transponder, and high security. Basic Honda keys are generally a plain steel key that may or may not have a black plastic top. You'll find these keys on older model Hondas, typically before 1998.
Honda transponder keys, however, require computer programming in order to start the vehicle. The transponder key has a computer chip inside of it that relays a code to the computer inside of the vehicle. If the code in the chip and the one on the computer do not match, the car will not start.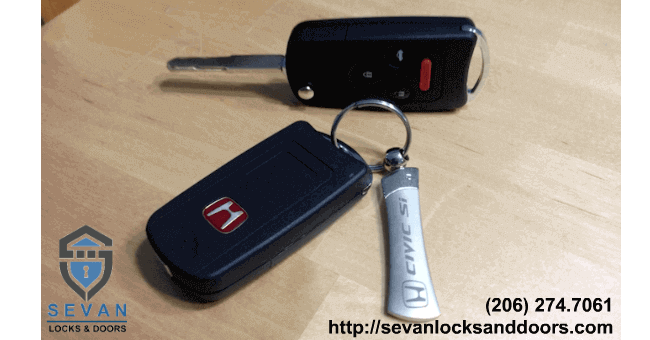 Laser Cut Honda Keys for the Lowest Price in the City
High-security keys, like transponder keys, also need to be programmed. However, high-security keys are cut with a laser in an indent or snake pattern that is unique to your specific vehicle. It's hard to cut these types of keys even for a dealership as the machine required to cut the key is extremely expensive and not many companies, even locksmith companies, have access to this technology. We have all the tools, technology, and training to get any type of key you need to cut and programmed on the spot.
Our Locksmith Car Key Replacement Price
While your first thought may be to go to a dealership, they actually tend to charge almost double what any reputable locksmith company would. Dealership prices for transponder keys vary but are almost always more expensive than a locksmith because of the programming and key cutting process. Don't waste your money and time. Our Honda key replacement service is available now.
Local and Licensed Expert Locksmiths
Our locksmith experts stay fully stocked and mobile to get to your location within 20 minutes or less. We know you need your Honda key replacement service done fast and for a reasonable price. That's why we have locksmiths all over the metro area in order to get to you as quickly as possible.
Our highly trained team of insured, licensed and bonded always provides a warranty with every locksmith service. We are available 7 days a week, and our team is ready to take your call anytime, day or night. We never charge extra for nights, weekends, or holidays.
Flat Rates and Friendly Service
Call us today for emergency Honda replacement keys service, to schedule an appointment, or to get a price quote. Our team can help you in Seattle, Downtown Magnolia, and the surrounding areas. We promise our service can't be beaten, just read our customer reviews! There's a reason we're considered one of the best locksmith companies in the metro area. Call us today at (206) 274-7061 and experience the difference!