Seattle Door Knob Rekey Service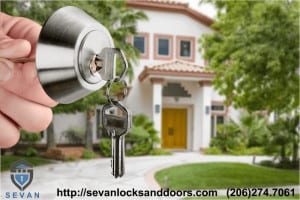 Seattle door knob rekey is one of the most common services Sevan locksmith provides. Our expert team is fully capable of providing excellent and professional services for all of our customers. We are available 7 days a week, and we have all the tools and training necessary to get the job done in a timely fashion. Click here to check out our Seattle door knob rekey specials and give us a call!
Be safe and secure in your new house
Whenever you move into a new home, have someone leave your business, or have someone move out, you should always make sure that you get a re-key doorknob service. This is to ensure that your home and business are kept in the most secure manner possible and that your valuables, family, and employees are as safe as well.
Seattle door knob rekey service is available now
Re-keying a doorknob can be tricky depending on the type of doorknob you have, how old it is, and what condition it is in. Inside every doorknob, there are pins which, once the proper key is entered, will turn the lock and allow you to go in or out. While you may be considering just replacing the lock, having a professional locksmith do a re-key doorknob service will save you time, money, and energy as any locksmith with the proper knowledge should be able to re-key any doorknob without an issue. A re-key doorknob service essentially takes the cylinder out of the knob, removes the casing that houses the pins, and removes the old pins in order to place new ones inside the cylinder, effectively rendering the old keys useless.
Just think about it
This is a crucial service whenever keys change hands as keys can be copied at almost any hardware store, leaving you to not know who may have one for your home or business. Using our Seattle door knob rekey service is also essential anytime you lose your keys, fire a key holder employee, or any other time you think a key may have ended up in the wrong hands.
Let us do the job right
While you could probably re-key the lock yourself, you may not have the proper tools or knowledge to do so which in the end could end up damaging your lock, which would then need to be replaced. The more costly and time-consuming problem could be avoided by calling a professional. All our Seattle door knob rekey services come with a written warranty and are done by local expert locksmiths.
Our locksmiths are highly trained and licensed
We understand the need to have a locksmith company you can trust, which is why our licensed, insured, and bonded Seattle door knob rekey technicians are locally operated in order to get to your location quickly and help you with your issue in no time. We have a 20 minute response time, the lowest prices in town, and the best-extended warranty to keep your home and business secure. We only use our in-house locksmiths because we want to make sure any issue that arises from your re-key service will be taken care of immediately and usually for free because of the warranty. We want to make sure that our customers feel safe and secure with all of our locksmiths, which is why we train them on the most up-to-date techniques and procedures and only use top-of-the-line tools and products with every service.
Pay less and get more
We have over 10 locksmiths located all over the area. So we can ensure a trusted, in-house locksmith can be to your business or home and get your Seattle door knob to rekey service done with the ease and professionalism you'd expect from a five-star company like us. Whether you need one doorknob re-keyed or 10, we have the capacity to get it taken care of and get you on with your day in no time. We also offer smart lock re-key, master key re-key, and high-security door knob re-key service. No matter what type of door knob you have, we can get it all done the same day you call, for less than half the cost of our competition.
Please don't wait, call now
Call our friendly dispatch office today at (206) 274.7061 to schedule your Seattle door knob to rekey appointment, request same-day service, or learn more about why you should always rekey your doorknob anytime keys change hands. We know that you have your choice of locksmith companies, which is why we make sure we stand out from the rest by sticking to our quotes and providing exceptional service with the best warranty available in all of Seattle.