Seattle Deadbolt Repair
Our Seattle deadbolt repair services are available 7 days a week. Sevan Locksmith always provides the lowest prices, 20 minute response time, and an extended warranty for all the parts was provided. We love what we do. Feel free to call us at (206) 274-7061 anytime and don't forget about our online specials.
Home or business susceptible to intrusion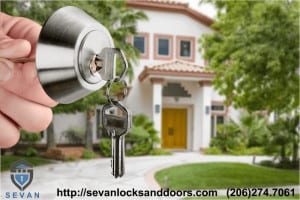 Typically speaking, a deadbolt is the most commonly used type of lock for homeowners and businesses alike to stave off unwanted intruders. A properly functioning deadbolt can be hard to damage or pick and provide adequate protection for the building. However, if a deadbolt becomes tampered with or broken, it can cause the deadbolt to not lock or unlock, leaving your home or business susceptible to intrusion. Call our Seattle deadbolt repair service to learn how to protect your house or business.
If the key is becoming too difficult to turn
Deadbolt repair can be tricky depending on the problem, damage, and type of deadbolt. While there are some occasions where it is better to replace the lock instead of repair it, there are a lot of measures that can be taken to ensure your current deadbolt will function properly once again. For example, if the key is becoming too difficult to turn, it could be the result of the key and not the deadbolt itself. Constant use of the same key will eventually make the key worn and render it unusable.
Let us resolve the issue
Before calling a locksmith for Seattle deadbolt repair, consider replacing the key or trying a spare. If this doesn't resolve the issue, try spraying WD-40 or a different silicone-based spray into the keyhole to see if there may be dirt or debris stuck inside. After spraying the silicone-based spray into the deadbolt, insert the key and turn it back and forth several times. If this still doesn't work, there could be something wrong with the deadbolt itself.
There is a solution
Because we use deadbolts every day, they will eventually become old, worn, and stop working altogether. However, there is a solution, call us! Our Seattle deadbolt repair team is highly capable of finding the exact issue with your deadbolt and can always repair it in no time. There are many things that could go wrong with your deadbolt that may not be obvious, such as the tail being loose, the striker and strike plate not being aligned correctly, or the pins inside the lock have become worn. The striker and strike plate not being aligned is generally caused by the hinges of the door shifting or becoming loose, while the tail falling off the back of the deadbolt usually indicates excessive wear or a faulty installation. If any of these things seems to be the problem, we can provide our fantastic Seattle deadbolt repair service for your home or business in no time.
Only in-house, local locksmiths
Whether you have a basic deadbolt or a high-security lock, our highly skilled team of Seattle locksmiths are ready and capable of handling any Seattle deadbolt repair service you need. We only use our in-house, local locksmiths with any residential or commercial deadbolt repair service in order to guarantee the safety and security of your home and business. We have over 10 years of experience when it comes to deadbolt repair, and we carry top-of-the-line tools to get it done in no time. Give us a call to see what we can do for you (206) 274-7061.
Large selection of replacement deadbolts
Our mobile locksmith team is fully stocked and ready to come to your home or business and get the job done right the first time. In the event that Seattle's deadbolt repair service can not be completed (the lock is too far damaged) then we carry a large selection of replacement deadbolts that come in silver, gold, or bronze to match the colors or the rest of your locks on your home or business.
Make the right choice
Our licensed, bonded and insured locksmith technicians are experts in every residential, commercial and automotive service imaginable. We pride ourselves in the expertise we show when it comes to our outstanding Seattle deadbolt repair service. Make the right choice. Call us today to schedule an appointment, request emergency service, or learn more about how our deadbolt repair service is the best in all of Seattle. We are open 7 days a week and our friendly dispatch staff is ready and willing to get one of our expert locksmiths to your location as quickly as possible. Call now for the best deadbolt repair service in Seattle and get your home or business back to being as secure as possible.