As a business manager or owner, you try to do everything in your power to stay on top of your business's security. This means keeping your systems connected and up-to-date and having the ability to manage them all at the same time from anywhere in the world. Integration services connect your systems together, making for a more efficient security system.
And we can help you with that.
Controls, Identification, and CCTV All In One
Our team here at Sevan Systems is committed to helping you keep your place of work protected. With our integration services, you can combine our access control and identification systems with our CCTV. What this allows you to do is access a live feed of your place of work from anywhere in the world as long as you have access to the internet.
With our expertise, you can feel confident about your access control and CCTV system. We're here to help you when you need it most.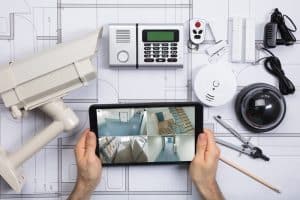 Get The Most From Your Security System
First and foremost, it's important that we understand what security integration systems are and how they can be beneficial to us. With new security technology systems coming out on a seemingly daily basis, security integration has become crucial. It is the trend of businesses merging their physical security systems.
For example, you may want to combine your entrance fob system with your security cameras or combine wireless standalone door locks with a hardwired access control system.
We do it all much better than anyone else. Successful companies, companies that have placed a massive emphasis on security, have used integration to combine their security measures.
Consider This When You Choose Security Integration
Sevan Systems is a one-stop shop for all your security needs. By providing locksmith, security, and complete door services, we know to secure your business better than any other company.
We provide custom-made security and door hardware that you are not gonna be able to find in any hardware store. We easily integrate mechanical and electrical door hardware as well as CCTV that prevents your business from break-ins and keeps it safe and secure.
We Can Help
Our team at Sevan Systems is here to help. We offer a wide range of security services, including integration, to businesses throughout the King, Pierce, and Snohomish Counties. Give us a call today to find out how we can help.
For any and all locksmith and security problems, give us a call today. We at Sevan look forward to helping you quickly resolve your issues through courteous and knowledgeable service using high-quality, durable products. Why? Because your security, convenience, and satisfaction are our highest priority.