It's time that you take the steps necessary to protect your Seattle area business! Our team here at Sevan Locks and Doors can help you achieve this by installing and providing monthly CCTV, security camera systems, and services. Here are some of the reasons why you should choose our CCTV installation services if we are near you.
Access Your CCTV From Anywhere
One of the benefits of our security camera system is you are able to pull up the video on your phone from anywhere for peace of mind. Anytime you need to check on your job or building, you can do that with ease. Our technicians are always available to troubleshoot any problems you have, and we'll be here when you need us.
What Does CCTV Mean?
Our CCTV services rely on the strategic placement of cameras and observation of the security camera's input on a monitor. Because the cameras communicate with monitors and/or video recorders across private coaxial cable runs or wireless communication links, they gain the designation "closed-circuit" to indicate that access to their content is limited by design only to those able to see it. A CCTV installer on our team can go over this with you in more detail, too.
We Offer The Best Security Camera System On The Market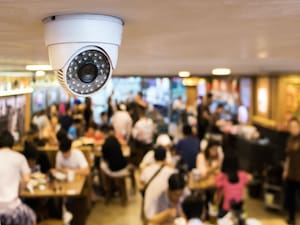 Here are multiple things to consider when you choose to install our CCTV security system:
Indoor or outdoor security cameras
Day and night high definition video
Vandal-proof hardware
Zoom in and out capability
Video recording and cloud storage
CCTV Integration with our access control system
Technical support
Our customer satisfaction is our first priority. This is why we take your security very seriously and use only high-quality products. Sevan Locks and Doors provides a written warranty for the hardware we use in CCTV installations and labor as well.
Protecting Your Business Day and Night
As a business owner or manager, it's absolutely crucial that you do everything in your power to protect your space. This means taking the proper steps to boost security around your property for better peace of mind. Our CCTV security system services can help make sure that things are always running smoothly. Here are some of the industries that rely on CCTV security camera installation to keep them safe:
Retail
Warehouses
Apartment Buildings
Office Spaces
Restaurants
Schools
Government Buildings
And more
Our highly-trained team will offer training and demonstrations to help you and your staff better understand how to use the security camera system. We can help you with your CCTV system either in person or over the internet.
Give us a call at (206) 539-0258 to learn more about securing your home or business. We would love to be the company near you to help with your CCTV installation!