Worn out or broken garage door springs can cause a range of frustrating problems. Opening and closing the door issues, and noises and jerky movement are sure to disrupt your day. Don't let the inconvenience and potential safety risks linger any longer. Our experts are here to address your worn-out garage door springs.
We Offer Professional Garage Door Spring Replacement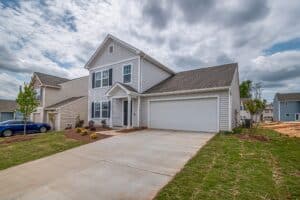 When it's time to replace worn-out garage door springs, it's a job that is best left to the professionals. Our expert team is here to handle all your spring replacement needs. Here are the reasons why you shouldn't attempt a DIY approach:
Mishandling high-tension garage door springs can lead to serious injuries.
Professional technicians have specialized knowledge and skills for complex spring replacements.
Our team comes equipped with the right tools for a smooth and proper installation.
Let us handle the replacement. We'll save you valuable time and effort.
Professional replacement ensures your warranty remains intact.
Why take unnecessary risks when it comes to your garage door? Instead, trust our team to deliver exceptional spring replacement services. With our expertise, you can have peace of mind knowing your garage door is in capable hands. Contact us today and let us handle your garage door spring replacements.
We Offer Garage Door Spring Replacement In Capitol Hill, WA
Is your garage door causing frustration with its odd noises or reluctance to open and close? Faulty springs might be the culprit behind these issues. Our team is here to rescue you from this inconvenience and restore the function of your garage door. We serve the people of Capitol Hill and the surrounding areas with top-notch services. Capitol Hill is known for its lively atmosphere, eclectic shops, and bustling nightlife. Residents here trust us to be their go-to source for replacing those worn-out springs with brand new ones. This city is included in the residential area of Seattle.
Most Commonly Asked Questions
Check out a few of our most commonly asked questions below.
Can I replace the garage door springs myself?
When replacing a garage door spring, it's crucial to focus on safety and entrust the job to a professional. This task is complex and can be hazardous if mishandled. That's why hiring a garage door technician with the expertise needed is recommended. The springs carry high tension, and improper handling can lead to serious injury. Professionals have the tools, knowledge, and experience to replace the springs. Don't take risks—let the experts handle them for your peace of mind and safety.
What are the different types of garage door springs?
There are two primary types: torsion springs and extension springs. Torsion springs above the door use torque to counterbalance the weight. Extension springs sit on either side of the door and stretch to support their weight. Determining which garage door needs depends on the door's size, weight, and design.
How long do garage door springs typically last?
The lifespan of garage door springs can vary depending on many factors. These factors include how often they're used, how well they're maintained, and weather conditions. Torsion springs last for approximately 10,000 cycles. Extension springs have a lifespan of about 5,000 to 7,000 cycles. Monitoring the condition of the springs is crucial. It's essential to replace them when needed to maintain the safe function of your garage door.
Schedule A Consultation Today
Don't let a faulty garage door spring ruin your day. Experience the difference with Sevan Systems' professional garage door spring replacement service. Contact us today to schedule your appointment and enjoy the peace of mind that comes with a functioning garage door.