Sevan Systems is a family-owned company that serves Ballard, WA. Being family-owned, we know a thing or two about the importance of protecting our loved ones, our belongings, and our business. That is why we take extra care with our clients and ensure that they receive the best quality service and that their unique security needs are met.
We Offer Smart Lock Installation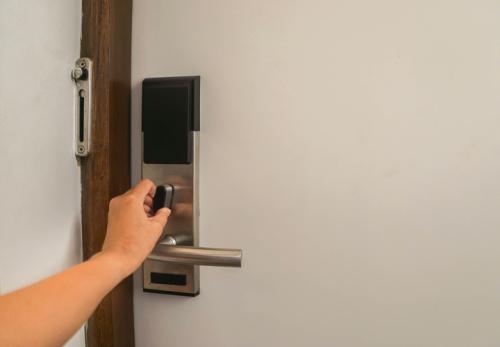 At Sevan Systems, we offer our clients a wide range of unique smart locks to select from. We have locks that turn your phone into your key, as well as locks that work with Google Assistant. Some of our locks work with Siri and Amazon Alexa, too. 
We even have smart locks that can allow you to access your home's lock from anywhere with your smartphone. Unexpected visitors drop by while you are still at the grocery store? No problem, just unlock with your phone and they can enter your home and wait for you inside.
We Provide Services To Ballard
We proudly serve the city of Ballard and many surrounding areas, including Northgate, Magnolia, Fremont, and Capitol Hill. Our hours of operation are 7 am to 7 pm, Monday through Saturday. We are closed on Sunday.
Commonly Asked Questions About Smart Locks
Below we will answers a few commonly asked questions about smart locks:
Are The Cheaper Versions Of Smart Locks Just As Good?
There are a few things in life that you can afford to buy the cheaper version of – maybe buy the off-brand version of a cereal or table condiment. However, when it comes to the safety and security of your family and home, you will literally get what you paid for.
If you buy cheaper you can most assuredly expect a cheap protection. If you are going to invest in something like a smart lock, be certain you are willing to pay for the best and the most reliable version for your specific needs.
Are Fingerprint Locks Safe?
A fingerprint is unique to each individual which makes this type of security that much more secure. Likewise, the current software algorithm used for fingerprint recognition has been around for a long time. Fingerprint locks are not fictitious pieces included in some of Hollywood's finest heist films and thrillers, they are real-life security measures that are guaranteed. With no two fingerprints being the same, the level of security you receive from a fingerprint lock is nearly unmatched.
Do Smart Locks Need Batteries?
Yes, smart locks do rely on battery power to operate. You may wish to conduct a bit of experimentation with different batteries depending on how often you plan to use the lock each day. The life of your smart lock's batteries will vary depending on the amount of times you have to use your lock.
As with anything else that runs on battery power the more you use that item, the more power the battery loses. However, it is important to note that some have reported success with their own locks using the cheapest batteries. Either way, the best protection is awareness so apply that same level of awareness to the life and health of your smart lock and you will do great.
Get A Quote Today
At Sevan Systems, we value our clients and want nothing but the best in protection for them. When it comes to the safety of your family or home, or even your business, there is no room for error. Call us now for a free quote.