Are you interested in upgrading your home security for the new smart locks? Well, if you are in the Capitol Hill area then Sevan Systems can help you! Our office offers a wide variety of smart locks, one to fit your every need! Don't keep putting off your security update and make sure you and your family stay protected in the new year!
Our Team Specializes In Smart Lock Installation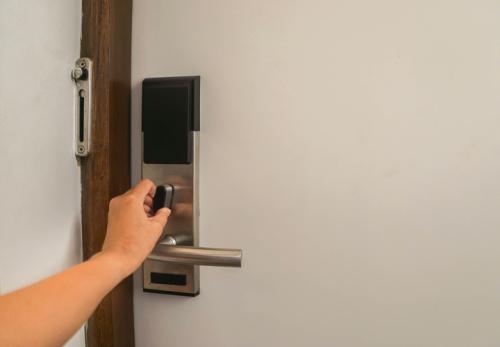 Smart locks come in a variety of shapes and sizes. Some have keypads, others have cameras and some even have access from your phone! Whatever type of upgrades you are looking to make, our team over at Sevan Systems can help! If you are interested in having an extra set of eyes on your home we also install CCTV cameras! That way you can always stay in the know about what's going on in your home, even when you are away!
Find Our Office Near Capitol Hill
If you are near Capitol Hill or its surrounding areas, then you can find our office nearby! Capitol Hill was established back in 1886 and has a current population of over 32,000 residents. If you are nearby, stop by our office and get to know the team! We would be more than happy to tell you what we offer and how we can help you!
Frequently Asked Questions About Smart Locks
In the market for smart locks but still have unanswered questions? Then check out our most frequently asked questions about smart locks below!
Which Smart Lock Is Right For Me?
This depends on what you need from a smart lock. If it's one that is easy and simple if you get locked out, the keypad smart lock might be right for you. If it's to keep watch of the comings and goings while out of town, you may require a smart lock with a camera and phone access. It all depends on what you're looking for!
Do Smart Locks Need Electricity?
Most smart locks run on batteries and when the batteries are running low, it alerts you weeks before it dies. Giving you plenty of time to change them. Some smart locks can run on electricity and have batteries as their backup generator if the power ever went out. Still making your smart lock fully functional and safe!
What Are The Benefits Of Having Cameras For Security?
Sometimes just by having a camera up on your property you can prevent a crime from ever occurring. Cameras are a great way to add to your security if you travel often. You can alert the police of a break in and keep an eye on your family as well! They are also good to capture any activity if needed.
Contact Us Today For Your Free Quote
If you are ready to upgrade your security system then contact Sevan Systems of Capitol Hill today for your free quote! 2023 brings with it many changes that are happening fast! Make sure you always keep you and your family safe by keeping up to date on the new security trends. Make 2023 a great year and keep your loved ones protected.